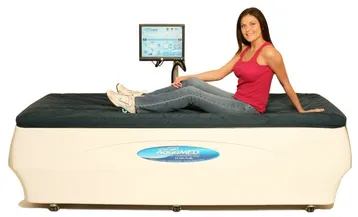 AquaMED® 200
The most powerful AquaMED® Machine Dry Hydrotherapy modality specializes in prescription, deep-tissue, effleurage water massage therapy.
FREE MASSAGE EVERY MONDAY FROM 10-1PM & WEDNESDAY FROM 3-7PM WITH YOUR TREATMENT
GIFT CERTIFICATES AVAILABLE FOR 15 & 30 MINUTE MASSAGES
ROUGH DAY AT WORK?
PRIVATE ROOM
NEED TO RELAX? BUY TIME ON THE MASSAGE TABLE AND USE IT AS YOU WISH!
SPECIAL OF THE MONTH $50 FOR 75 MINUTES OF BLISSFUL MASSAGE
CLINICAL BENEFITS
Research has shown massage, heat and whirlpool to have the following effects:
Increased blood circulation for better homeostasis
Decreased muscle tension for better movement
Increased oxygen absorption in the blood stream for better energy
Decreased inflammation and muscular toxins for better injury recovery
Increased release of endorphins for better feeling of well-being
Decreased blood pressure for better circulatory health and stress relief
Decreased muscle guarding for better effectiveness of treatments
Increased muscular range of motion for better flexibility